What is the Pilgrim Story?
This self-guided, interactive, online history course teaches students the true history of the Pilgrims from original sources. Geared to grades 3 through grade 7, students embark on a journey like no other!

Dayspring Christian Academy is pleased to offer The Pilgrim Story to the homeschool community. The Pilgrim Story draws from the Principle Approach method of education, students are immersed in biblical principles and view history through the lens of Scripture. This online interactive curriculum provides an in-depth look at the character of the Pilgrims and their perilous journey to the New World. The Pilgrim Story is available for a one-time cost of $99!
What Our Community Is Saying…

This is not your typical Thanksgiving pilgrim story. This meaty history course will help your students understand not just how the pilgrims came to the new world, but why they came, how they sacrificed, and on whose authority they stood along the way. Taking a familiar story that usually conjures up images of people dressed in odd black and white clothes with big buckles, eating turkey with the Indians on the first Thanksgiving, into a true story of God's providence in the lives of a people who risked everything for their faith — does it get any better than that in the Christian homeschool? I don't think so. This is what it means to teach from a biblical worldview.

It's so enjoyable that I believe it would be a wonderful family study. Even though I am a public school teacher now instead of my past role as a homeschool mom, I learned so much additional information about The Pilgrim Story than any other resources that has come across my desk…I can honestly say that I have gained so much additional knowledge after reviewing this online course.

The Pilgrim Story goes much more in depth than anything else I have seen. It has been a wonderful way to really dig into this time in our country's beginning. What we are learning is so much more (and in some cases different) than what I learned in school. It has made a great addition to our American History studies. Even if we were not covering this time period, the lessons learned (not just the historical facts) are so important. Discussing God's Principle of Self-Government and Christian Unity with my children have been some of the most meaningful conversations we have had. What a blessing to be able to call this school!
Sharon says…
Our favorite feature about this course is how Mrs. Stauffer incorporated various activities and options to engage all learning styles. Each lesson and the corresponding activity helped us to understand the Pilgrims' need and desire for such a significant life change. It made us appreciate the life we can live because of their sacrifices and choices. I appreciate that Mrs. Stauffer used authentic sources. It is evident how passionate she is about getting the facts correct.
Karyn says…
One thing I really love about it is that they teach it from the Christian perspective with great original sources. The lessons taught were wonderful…he learned so much about the history of the Pilgrims and the wonderful character traits that they displayed. I did it with him- because I wanted to learn the lessons, too!
Instant Access to a Sample Lesson
Want to take The Pilgrim Story for a test run? Enter your email address to receive a link to our sample lesson!
This online Christian course is for grades 3-7 and is a self-paced, interactive course. Our goal is to teach students the true history of the Pilgrims from original sources and a Providential viewpoint. Through the Principle Approach method of education, the importance of Christian character and biblical principles such as self-governance, hard work, perseverance, and liberty of conscience are woven into the curriculum. The course includes online interactive activities as well as hands-on activities, including three STEAM activities. Each lesson begins with a short review of the previous lesson and ends with a short quiz. Each unit ends with a unit test with optional additional writing assignments. Each lesson takes approximately 30-45 minutes to complete. Additional enrichment activities for further learning are included. At the end of the lessons, a list of books for further reading is displayed.
The Pilgrim Story Units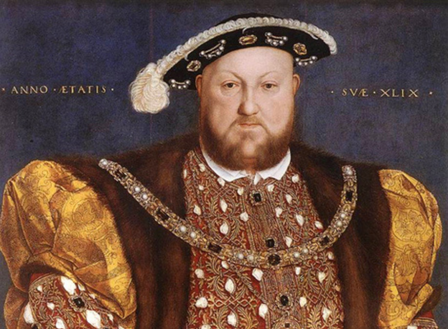 Unit One
Lesson One: King Henry
Lesson Two: The Geneva Bible
Lesson Three: Life in Scrooby
Lesson Four: Liberty of Conscience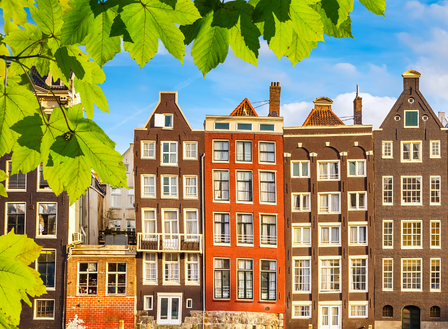 Unit Two
Lesson One: Leaving England
Lesson Two: The Second Escape Attempt
Lesson Three: Leiden
Lesson Four: Preparing To Go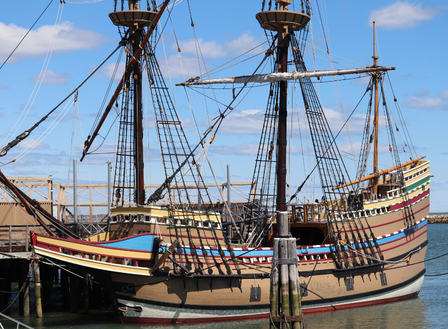 Unit Three
Lesson One: Leaving Leiden
Lesson Two: Conditions on the Mayflower
Lesson Three: Building Christian Character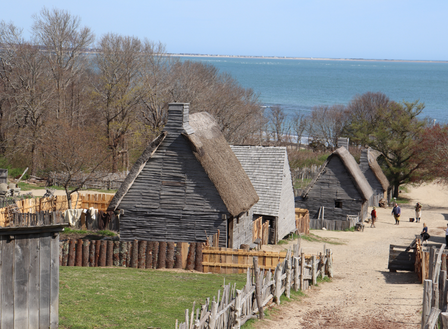 Unit Four
Lesson One: The Mayflower Compact
Lesson Two: Exploration
Lesson Three: The First Winter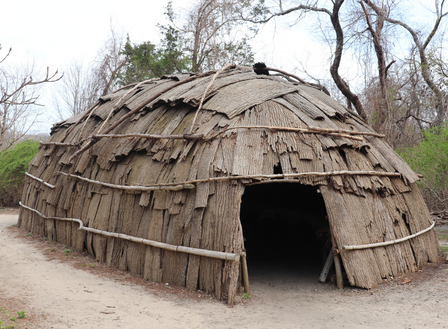 Unit Five
Lesson One: Spring 1621
Lesson Two: The Wampanoag People
Lesson Three: The Rest of the Story
Virtual Field Study
More Details
About The Course
5 Units including

17 Teaching Lessons
5 Unit Tests
3 STEAM Activities
1 virtual field trip
Reasoning Questions
Biblical Principles and Application

Over 700 individual slides
16 interactive activities
Over 600 voice-over audio files
78 PDF downloads
Discover the Pilgrim Story in a way you never have before!
Taught by Dayspring Christian Academy teacher, Mary Stauffer, you will discover the reasons the Pilgrims came to America and the deep faith that drove them to leave their homeland in search of liberty of conscience.
The character of the Pilgrims and the biblical principles that guided them are woven throughout the course in an age-appropriate way.
Students are challenged to reason through the concepts they are learning and make practical application of them in day-to-day life.
Note sheets are included for the student to fill in the blanks to create a record of their learning. Hands-on activities are also included for enrichment.
The course is designed for parents to customize it to fit their child's learning style. A parent packet is available with additional reasoning and reading resources.
Purchase Course
Ready to embark on this incredible learning adventure? Let's begin your journey now!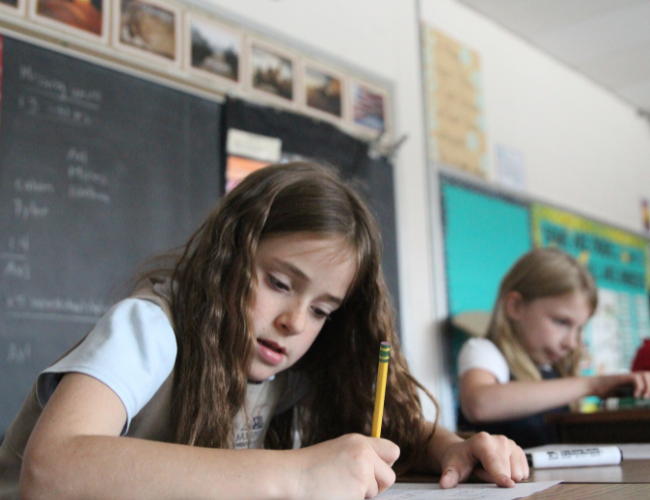 WHY IS THE COURSE IMPORTANT?
Using The Past To Guide
The Future
In pursuit of liberty of conscience, the Pilgrims embarked on a journey that would lead to the creation of a form of government the world had never seen. Offering the highest degree of liberty for the individual, America finds its roots in the form of government established by a people who reasoned from Biblical truth and principles. These principles are highlighted throughout the curriculum and include reasoning activities to further challenge the students to think through Biblical answers and responses to the situations that the Pilgrims faced and make applications to their own lives. Here are a few of the biblical principles your students will discover:
The Principle of Self-Government
The Principle of Liberty of Conscience
The Principle of Union with Unity
The Principle of Christian Character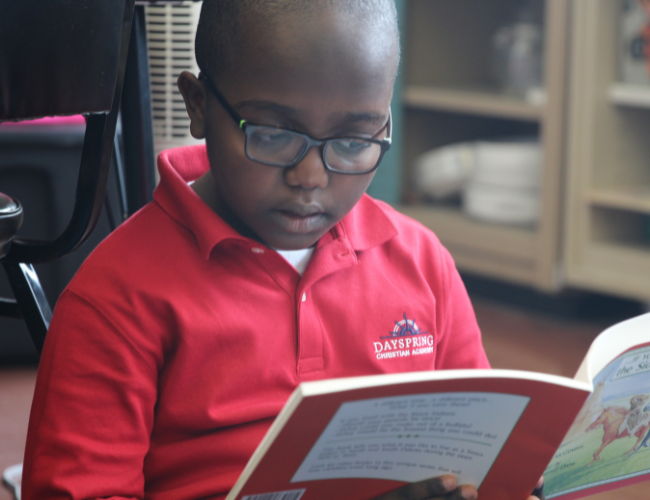 WHO WILL BENEFIT FROM THIS COURSE?
Expanding On
Everyday Learning
The Pilgrim Story is a semester-long course tailored to students in grades 3-7. The course is customizable for parents. Additional options for further reading and writing are suggested in our Parent's Packet. Aside from the online aspect of the course, which does include tests and quizzes, parents may have students complete the following additional activities:
Further reading is suggested at the end of most lessons. Books may be borrowed from the library or purchased online.
Templates for book reports are provided in the parent packet
Hands-on activities including 3 STEAM activities are included in the course
Optional essays may be written at the end of each unit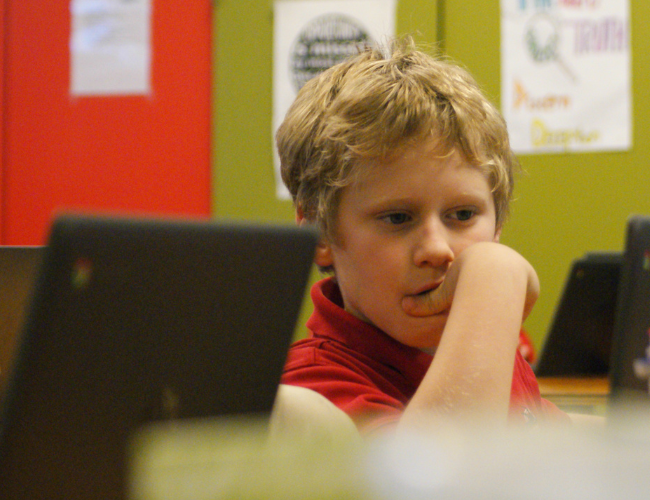 WHERE DOES THIS COURSE COME FROM?
Brought To You By Dayspring
Christian Academy
Dayspring Christian Academy is one of many Principle Approach® schools in America. The Principle Approach to education focuses on consistent and ordered teaching and learning. The goal is to build a student's Christian character and sense of self-government, Christian scholarship, and Biblical reasoning for lifelong learning and discipleship.
Has its philosophical origins in the Bible
Has distinctive methodology revealed through a biblical pedagogy of teaching and learning
Unfolds the character and nature of God as revealed in Scripture and demonstrated in the Creator
Discovers the purposes of God for man and government
Is applicable to all times and cultures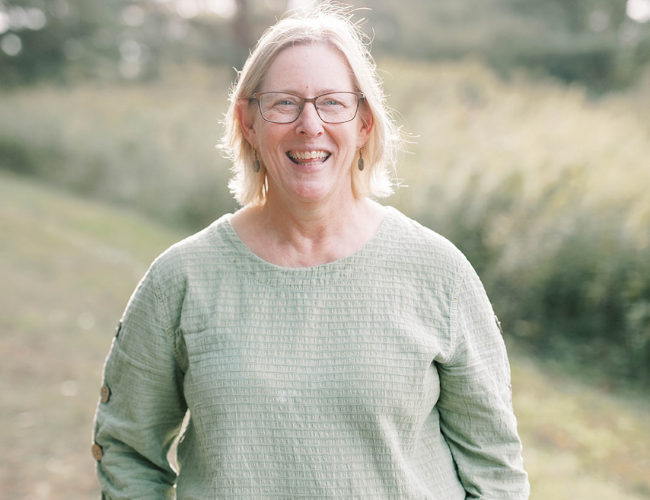 WHAT ARE THE PRINCIPLES OF THIS COURSE?
Teaching Biblical Principles That Sustain Liberty
Dayspring Christian Academy teacher, Mary Stauffer, has spent many years researching and teaching the true story of the Pilgrims. As a Principle Approach Master Teacher, Mary's excellence, creativity, and knowledge shine as she leads students to reason through the Biblical principles the Pilgrims displayed in their lives and through their choices. The principles taught in this course include:
The Principle of Individuality
Liberty of Conscience
Christian Care and Brotherly Love
Steadfastness
Union with Unity
Self-Government
Take the Next Step
Ready to go? Let's get you started! Purchase the course now for only $99 or watch our overview video!
Discover the True Story of the Pilgrims.
It's a Journey You Won't Soon Forget!

Embark on an incredible learning journey through history! You will discover:
How the Bible in English found its way into the hands of the Pilgrims
How the Pilgrims reasoned from Biblical principles and applied them to every area of their lives
How the Pilgrims set the stage for America's form of government
How God's providence sustained the Pilgrims and how He worked all things for His glory
Debunk the myths surrounding the Pilgrims
Discover how the Pilgrims and the natives worked together for the benefit of the other
Experience what it was like on the Mayflower's voyage to the New World
Find out how God's hand worked providentially to guide and care for the Pilgrims
Learn about the Wampanoag people and how they lived
Understand how the Mayflower Compact shaped the form of civil government in America